Musings from the sports desk: How high can this Rams team go?
Fri, 09/28/2018 - 11:34
admin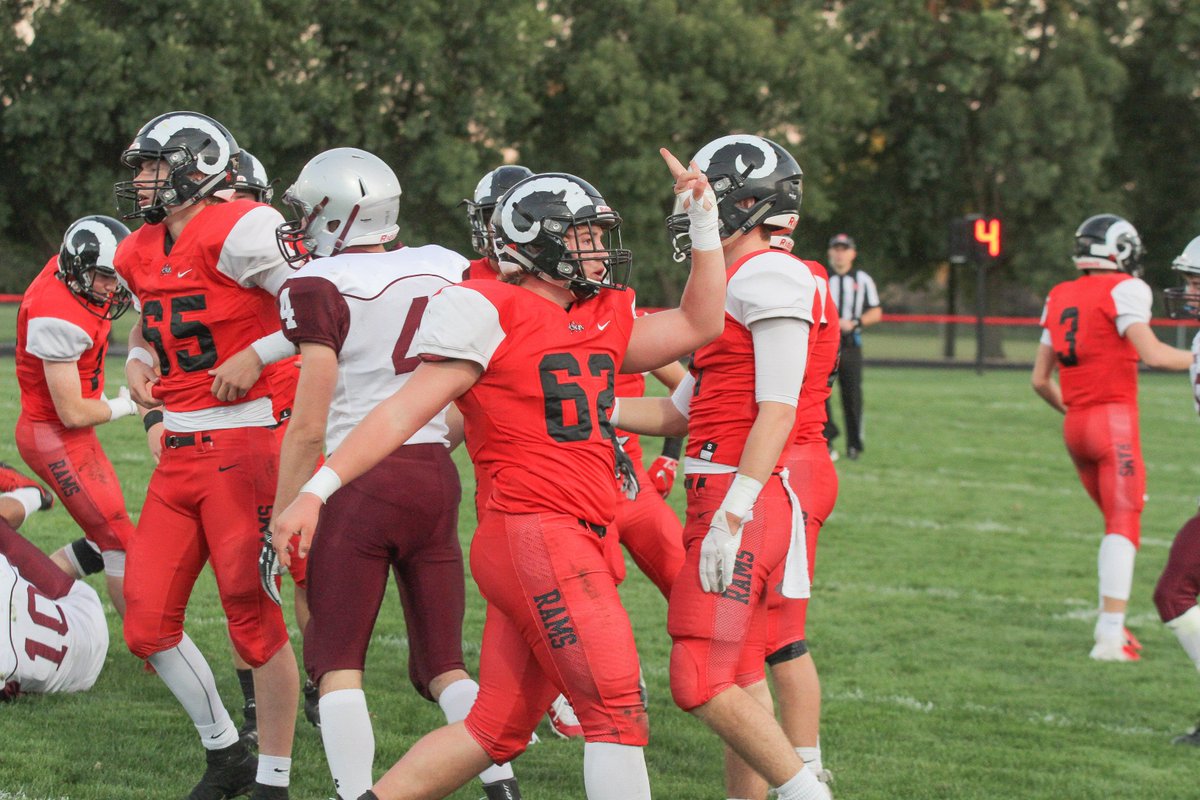 Ranked fifth in the state, red-hot Greene County keeps winning – big
By BRANDON HURLEY
Sports Editor 
By this point, it feels like a broken record. 
It's a smooth sounding record though, with crisp high notes and bone-crushing tackles, one that is catching the ears of the state's elite. 
The fifth-ranked Greene County Rams produced another blowout victory in week five, setting a handful of school records along the way, yet again. 
The statistics continue to reach astronomical heights as Greene County continues to re-write the school record books. I think we are deep enough into the season to ask the question that's been a few minds recently, can this team run the tables and go undefeated? 
It'd be one hell of a feat for a program that entered the year having won just two games in two years, enduring a coaching change while dealing with the growing pains of a young program. But, to be honest, get past Kuemper Catholic this week and nine straight wins isn't too out of reach. After dropping a tight one to unranked Red Oak, 24-19, previously unbeaten OA-BCIG (4-1) doesn't seem as dangerous as they once did. Kuemper smacked Atlantic, 45-14 and though Red Oak pulled off a huge upset last week, it's pretty difficult to get a read on them. The Tigers are 3-2 and 1-0 in district, with a loss to Class A's Southwest Valley (24-21) and Class 1A Treynor, which was a 21-0 embarrassment. 
What do we do with that information now that they have a top 10 win? That long trip to Red Oak in a couple of weeks is looking more and more important as we move along.  
Atlantic's two wins are pretty lackluster, a victory over winless Saydel and a triumph over Class 1A's Clarinda, a narrow 21-20 win. So, on paper, we can mark next week at home as a big victory. Of course, OA-BCIG still lingers as a threatening team in the season finale. Last week may certainly have been a fluke, as they present one of the district's better dual-threat quarterbacks in Kaden Ladwig. 
But despite Kuemper's 2-3 record, I still believe they are the team to beat in district 9. Of course, Greene County remains the heavy, odds-on favorite as long as they keep winning, but Friday night's game should be the most telling contest of the season. 
The Knights lost to one of 1A's best teams, South Central Calhoun, who was in 2A last year while they also dropped games to back-to-back 3A foes in Glenwood and Denison-Schleswig. So, as you can see, that record is a little bit misleading. Plus, they by far have the most tradition in the district, winning the 2013 state title and a district championship in 2016. 
All this talk about what-ifs and hypotheticals leaves us with the second edition of a football-themed numbers dump, featuring the undefeated and district-leading Greene County Rams. In an honorable mention note, Greene County rose to No. 5 in the AP polls and all the way up to No. 4 (0.6401) in the Iowa High School Association's RPI rankings this week, which determine the at-large playoff qualifiers. They sit behind #3 Algona (0.6611), #2 Spirit Lake (0.6793) and #1 PCM (0.7259) in the RPI.
PCM held on to the No. 1 spot in the AP rankings, followed by Spirit Lake, Boyden-Hull/Rock Valley and Algona. 
Greene County's stats are becoming more and more bonkers by the week. Enjoy this one, sports nerds:
First and 10 with the Greene County Rams
1. In Greene County's fifth straight win, a 62-0 slaughtering of Shenandoah, the Rams broke a pair of school records:
- Fewest yards allowed (17)
- Fewest rushing yards allowed (-25)
2. Friday night's shutout lowered the Rams' defensive rushing yards allowed average to 32 yards per game. They've allowed just 160 yards all season. As a whole, Greene County is holding opponents to a remarkable 112.5 total yards per game.
3. No team has rushed for more than 39 yards since the Nevada game in week 2, that's three straight weeks of insane defense. Only one team has produced more than 160 total yards on the Rams, Nevada, when they tallied 264 yards. 
The Rams have recovered 11 fumbles (first in 2A), bumping their turnover total to 17 in five games, an average of more than three turnovers per outing. Greene County has produced three defensive touchdowns this fall, two interception returns and a fumble return. 
4. As a result of their second shutout in three games, the Rams are now giving up just 4.6 points per game (23 total points and four touchdowns in five games). Greene County has held their last three opponents to seven total points, a string of three straight games of 10 or fewer points. Only Nevada, in a 38-10 loss back on Aug. 31, was able to reach the double digit mark. 
5. With their second 60-point outing of the fall, Greene County is averaging 45.6 points per game, the second best mark in all of 2A. The Rams have outscored their last three opponents (Saydel, Gilbert and Shenandoah) by a combined score of 176-7. Through five weeks, Greene County has outscored their opponents 228-23, tallying an average margin of victory of 41 points per game.  
6. Greene County's 30 offensive touchdowns are second in 2A behind Clear Lakes 31 scores. To put it into perspective, the Rams scored just 24 touchdowns in nine games last season and just 15 offensive touchdowns in 2016. The Rams are fifth in the state in total yards with 2,137, an average of 427 yards per game.
7. Wide receiver Carter Morton caught a touchdown in his fifth straight game, a 64-yard reception in the second quarter. The junior has now hauled in six touchdowns in five games, which is tied for the best mark in 2A with Algona's Skyler Groen and Nevada's Andrew Saunders. 
8. Greene County is one of only four remaining unbeatens in Class 2A. Previous state-ranked Benton, Chariton and OA-BCIG all lost in week 5. The Rams are the only undefeated team left in 2A, district 9.
9. Junior quarterback Brent Riley produced his best game as a starter last week, throwing for 211 yards and four touchdowns on 11-of-14 passing. Those numbers bump him up into a tie for first in 2A with 15 touchdown passes while he is fourth in yardage with 1,080 yards (216 ypg). Riley has thrown for more than 450 yards and tallied eight touchdowns in the last two weeks. 
10. The Rams have yet to trail at any point five games into the season, that's 20 consecutive quarters and 240 minutes of gameplay. They've only allowed one first half touchdown all year, which was all the way back in week 2, a late Nevada score in the second quarter.